iab hong kong webinar social commerce small big
IAB Hong Kong Webinar: Social Commerce from small to BIG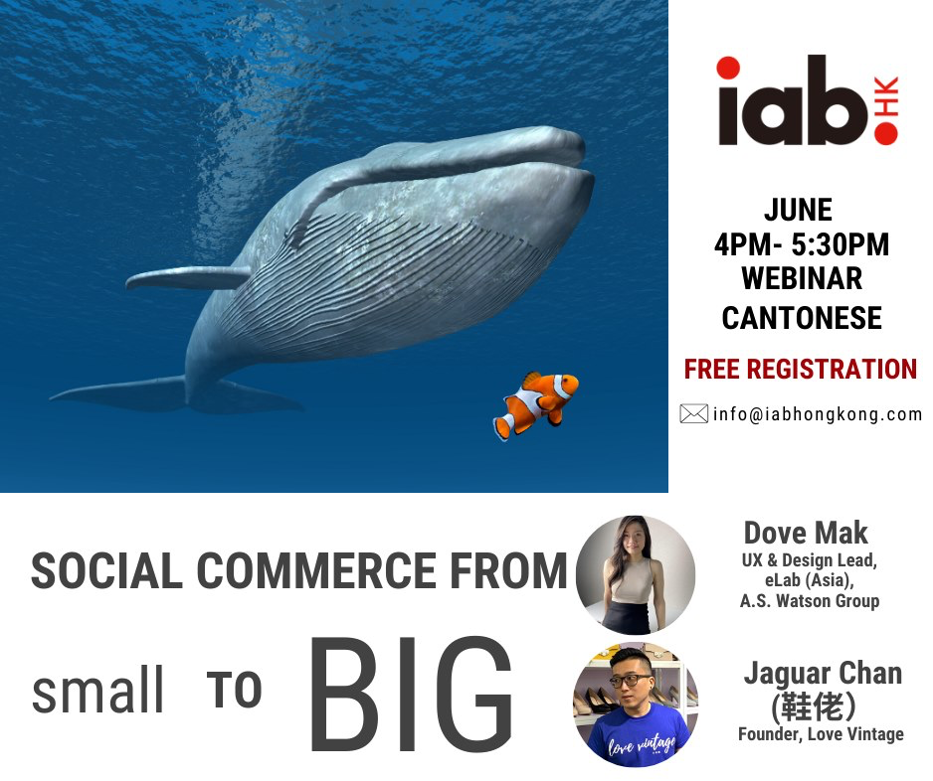 With consumers shifting to online purchases, the opportunity for developing digital commerce is growing at phenomenal rate.
This webinar provided us practical case sharing of Watsons and "The Shoe Guy", on how to make the business stand out from the crowd by leveraging the point of differences through social media. If you also have doubts about how to get started on social commerce and how to stay relevant in this ever-changing social landscape, check out this video to quickly master social media for your business.
Language: Chinese
Please also subscribe to our YouTube channel "IAB Hong Kong" for more webinars replay https://www.youtube.com/watch?v=Qi84n2npraA&feature=youtu.be
June Webinar: Social Commerce – From Small to BIG
Thanks Dove Mak sharing on how retail stores and online services do it differently to engage with customers under the new normal. Also, there are many creative ways to do the on/offline engagement for business.
Another great talk from Jaguar Chan (鞋佬) who dramatically shifted from disliking online 3 years ago to 100% online business right now. Live Streaming with revenue share, monthly revenue-tie ad budget to create brand awareness and business opportunities, which might bring the new perspectives to many marketers. With that, we learned agility, flexibility and on-going creativity become the critical parts of success.
Thanks IAB HK Social Committee bringing us this new learning and inspiration. Thanks GroupM for providing the shooting venue.
Got comments on the event? Share your thoughts here https://zh.surveymonkey.com/r/B753SYJ