scmp advertising and iab hk launch landmark study showing how brand marketing taking centre stage
SCMP Advertising+ and IAB HK launch landmark study showing how brand marketing is taking centre stage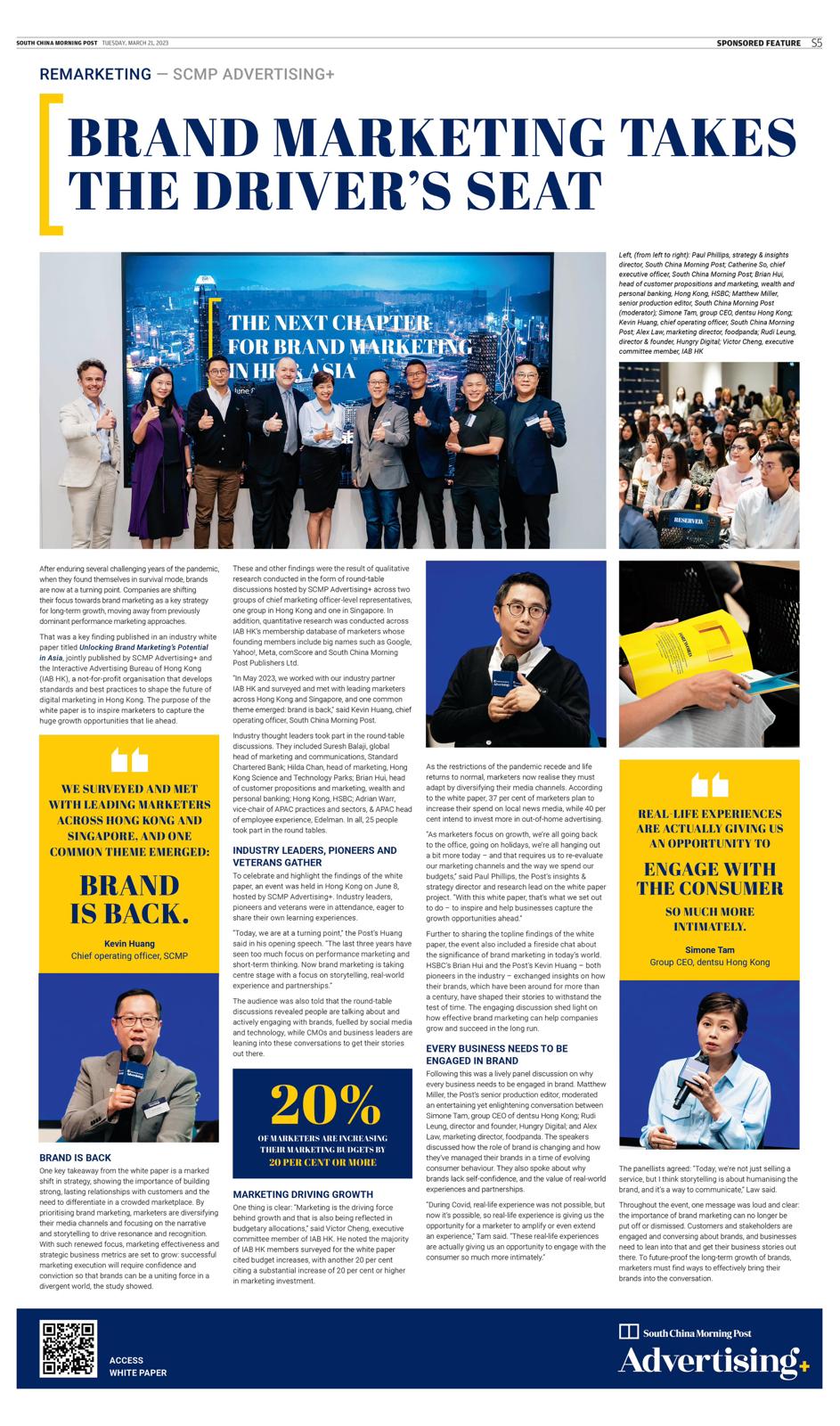 👏IAB HK is proud to support the South China Morning Post as an Industry Partner to unveil a white paper earlier this month. 📰An article on the white paper launch event was published today on SCMP. Here are some key quotes from the article:
💡"Marketing is the driving force behind growth and that is also being reflected in budgetary allocations," said Victor Cheng, executive committee member of IAB HK. He noted the majority of IAB HK members surveyed for the white paper cited budget increases, with another 20 per cent citing a substantial increase of 20 per cent or higher in marketing investment.
💡"Today, we are at a turning point," SCMP's Kevin Huang said in his opening speech. "The last three years have seen too much focus on performance marketing and short-term thinking. Now brand marketing is taking centre stage with a focus on storytelling, real-world experience and partnerships."
💡"Real-life experiences are actually giving us an opportunity to engage with the consumer so much more intimately." by Simone Tam, Group CEO, dentsu Hong Kong.
💡"Today, we're not just selling a service, but I think storytelling is about humanising the brand, and it's a way to communicate." by Alex Law, Marketing Director, foodpanda. 
📌For more details, please read the article here https://www.scmp.com/presented/news/topics/remarketing-scmp-advertising/article/3224047/scmp-advertising-and-iab-hk-launch-landmark-study-showing-how-brand-marketing-taking-centre-stage
#IABHK #SCMP #brand #Marketing #brandmarketing #asia #whitepaper #IReadtheSCMP