IAB HK Digital Awards 2023 Call for Entries
The IAB Hong Kong Digital Awards 2023 is open to all creative, design or media agencies, advertisers, independent parties, media sales houses, technology providers, vendors, platforms, IAB HK members, and non-IAB HK members.
Everyone can enter one or several cases in one or several categories. Each submission may be entered into different categories but must be written differently each time to reflect the category's particular emphasis.
Eligibility Period
All work, including global and regional campaigns, must have been presented to the public in Hong Kong between 1 August 2022 to 20 December 2023. 
Dates and Deadlines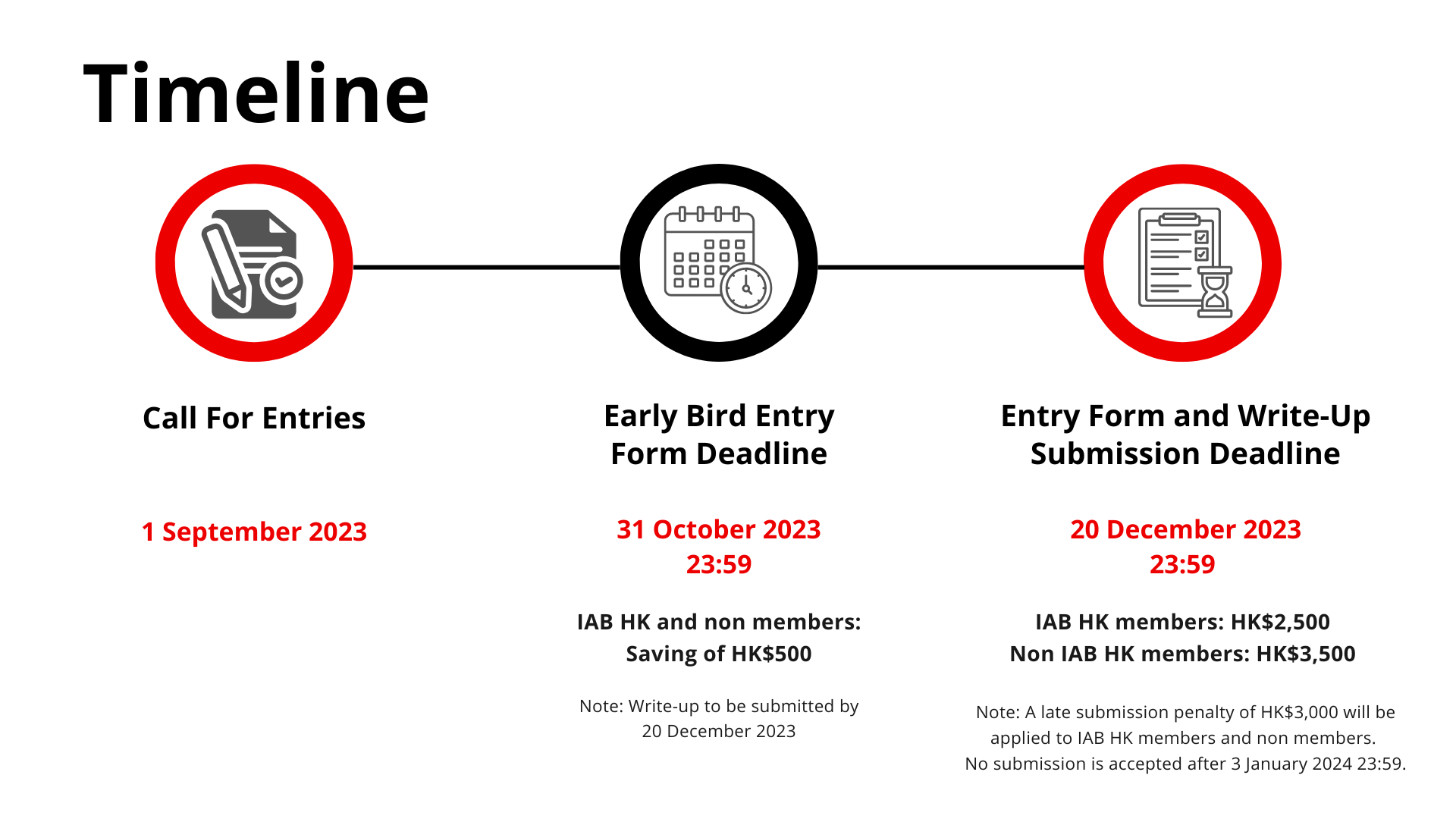 Early Bird Form Deadline: Tuesday, 31 October 2023, 23:59
Entry Form and Write-Up Submission Deadline: Wednesday, 20 December 2023, 23:59
Entry Fee (per submission and per category)
IAB Hong Kong members: HK$2,500 

Non IAB Hong Kong members: HK$3,500 

Early Bird Form (by 31 Oct 2023): Enjoy a HK$500 discount!
Early Bird: Simply submit a one-page form to express interest in entry by 31 October 2023, then submit the detailed Write-Up Submission as usual by 20 December 2023, to save HK$500.
Late Entry: All late entries will incur a penalty of HK3,000 per category. No late entries will be accepted after 3 January 2023, 23:59.
Note for IAB HK Digital Awards 2023 Early Bird Form:
By submitting the Entry Bird Entry Form, you are indicating your interest in submission, but please note that this form does not constitute an official entry. To complete your entry, you must submit the official template online by 20 December 2023. Any entries received after this deadline will be considered late and will incur a penalty of HK$3,000 per category. Please ensure that you submit your entry before 3 January 2024, 23:59, as no late entries will be accepted beyond this time.
In addition, if you initially submit this form with Brand A but decide to change to Brand B for the official submission, that change is acceptable. You will still be entitled to the early bird discount.
If you have any further questions or require clarification, please feel free to reach out to us at info@iabhongkong.com.
IAB HK reserves the right to reject the submission if it does not comply with the spirit of the awards.
More information on the IAB HK Digital Awards 2023