iab hk x hku space executive certificate effective digital media buying and planning
IAB HK x HKU SPACE Executive Certificate in Effective Digital Media Buying and Planning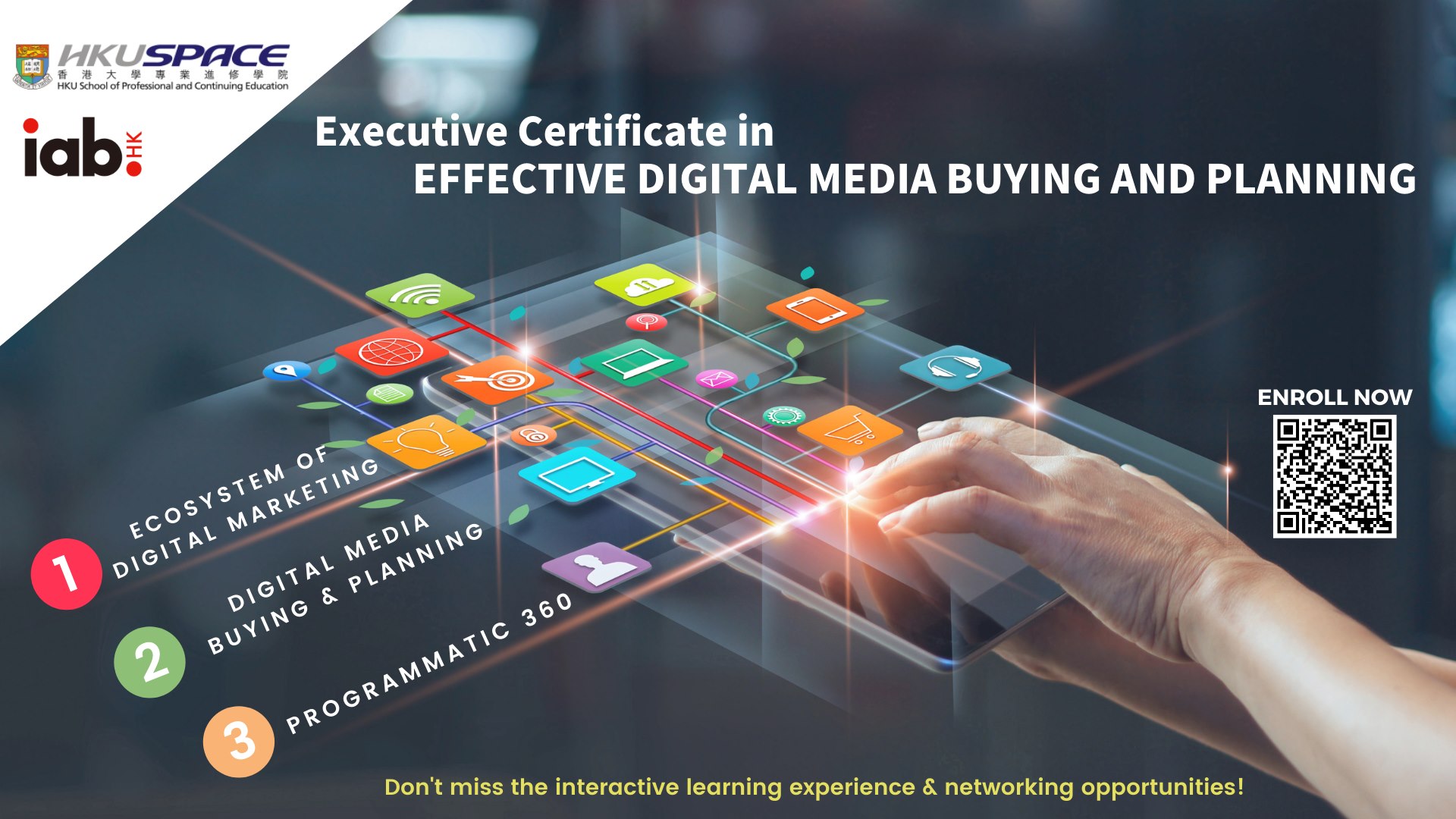 IAB HK x HKU SPACE: Get industry recognized certification in Digital Media Buying and Planning.
Designed by IAB Headquarter in the US with localized content to fast-track HK marketers' career. Get job-ready skills in this 2-month (30-hour) comprehensive course.
The programme aims to provide professional credentials to equip advertising industry practitioners, especially digital media buyers and planners. Over the course of 8 consecutive Saturdays, you will be able to transform yourself into a well-rounded marketer through this extensive 30-hour programme taught by industry experts from agency, publisher and platform backgrounds.
Coaches:
1. Deric Wong, CEO, Omnicom Media Group HK
2. Coleman Lo, Head of Hong Kong, Hina Technology Co Ltd.
3. Roger Kan, Head of Client Success APAC, Cosmose Inc.
4. Sharon Chan, Platform Manager, Google HK
Syllabus:
Ecosystem of Digital Marketing
- New rules and the latest trends in digital marketing
- Digital consumer behaviour and consumer segmentation
- Digital and social media platforms
- Digital advertising communications strategies and formats
- Digital advertising campaign planning and optimization
Digital Media Buying and Planning
- Collaboration on campaign briefs
- Creating media strategies
- Developing digital media plans
- Executing and managing campaigns
- Educating stakeholders
Programmatic 360
- Evolution of programmatic advertising
- Technologies and transaction types
- Supply-side providers and Demand-side providers
- Automation, campaign process and measurement strategies
Thank you Deric for an enlightening and interactive presentation on the ecosystem of digital media with a fruitful content of real-life examples!
Thank you Coleman and Roger  for the informative and interesting presentation on how to develop digital media plans and execute campaigns in a creative way! This week, we are also proud to have Alvita Szeto, the Business Director at Facebook, as our guest speaker, who brought wonderful insights on digital media buying and planning.