Register the fifth class of IAB HK x HKU SPACE Certificate Course: Effective Digital Media Planning & Programmatic Advertising (40-hours training)
🎉🎓 Join the IAB HK x HKU SPACE Certificate Course in Jan-Apr 2024 to take your skills to the next level in Digital Media Planning & Programmatic Advertising, eligible for CEF reimbursement from just HK$1,870!

📚 IAB HK is excited to collaborate with HKU SPACE again to offer the "Certificate Course in Effective Digital Media Planning and Programmatic Advertising". This course provides a solid foundation in the dynamic field of digital marketing, covering topics such as digital media planning, buying, selling, and hands-on learning with 7 hours of practical exercises. 📈 Engage in interactive discussions and analysis using real case studies presented by our expert lecturers, and gain a deep understanding of the industry. 
Recommended for junior marketers and those interested to have a thorough and practical understanding of digital marketing.

📆 Date: 6 Jan 2024 - 6 Apr 2024 (every Saturday, 2-6 pm)
⏰ Duration: 40 hours
🗣️ Language: English
💵 Course Fee: HK$9350 (80% course fee reimbursable under Continuing Education Fund)
📎 Application Fee: HK$150* (IAB members enjoy a fee waiver)
✉️ Enquires: ec.marketing@hkuspace.hku.hk
✏️Register by 18 Dec 2023: https://bit.ly/iabhkuspacecourse

📝 Modules Covered:
📌 IAB Digital Fundamental
📌 IAB Digital Media Buying and Planning
📌 IAB Programmatic 360
📌 IAB Data, Measurement & Media Selling
📌 Ad Placement and Generation of Ad Tags
📌 Latest Trends in Digital Marketing
>>Register now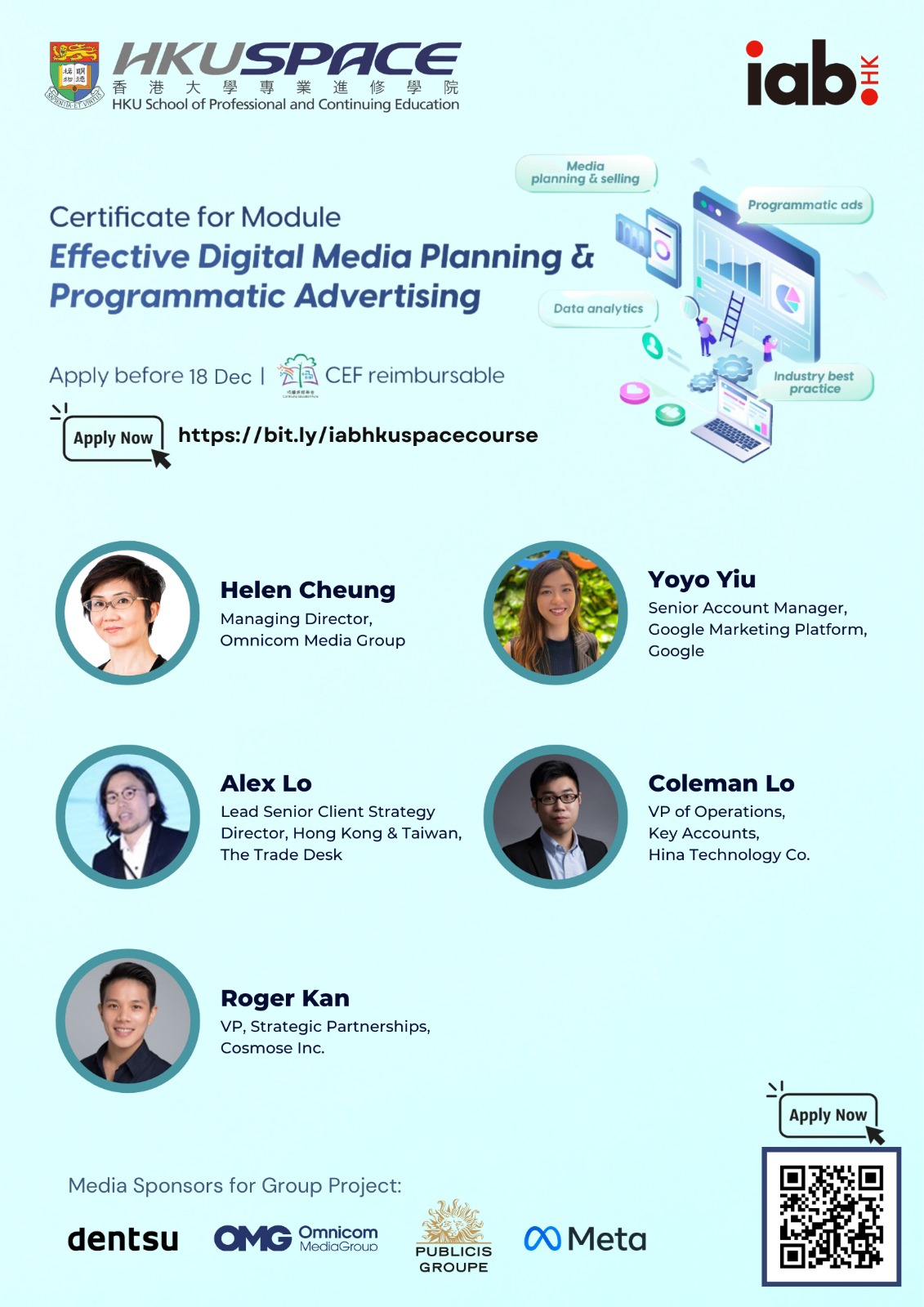 🎙 Lecturers:
🔸 Helen Cheung, Managing Director, Omnicom Media Group
🔸 Yoyo Yiu, Senior Account Manager, Google Marketing Platform, Google
🔸 Alex Lo, Lead Senior Client Strategy Director, Hong Kong & Taiwan, The Trade Desk
🔸 Coleman Lo, VP of Operations, Key Accounts, Hina Technology Co.
🔸 Roger Kan, VP, Strategic Partnerships, Cosmose Inc. 
👏 Special thanks to Dentsu, Omnicom Media Group, Publicis Groupe, and Meta for the generous support of the media budget for ad placement in the student projects.

⏳Submission Deadline: 18 Dec 2023 (Monday)
🌐 Don't miss out on this incredible opportunity to boost your digital marketing career! 📈🚀
For any enquiries, please mail to ec.marketing@hkuspace.hku.hk