Calling for Employers to 2023 IAB HK Apprentice Program by 31 Mar 2023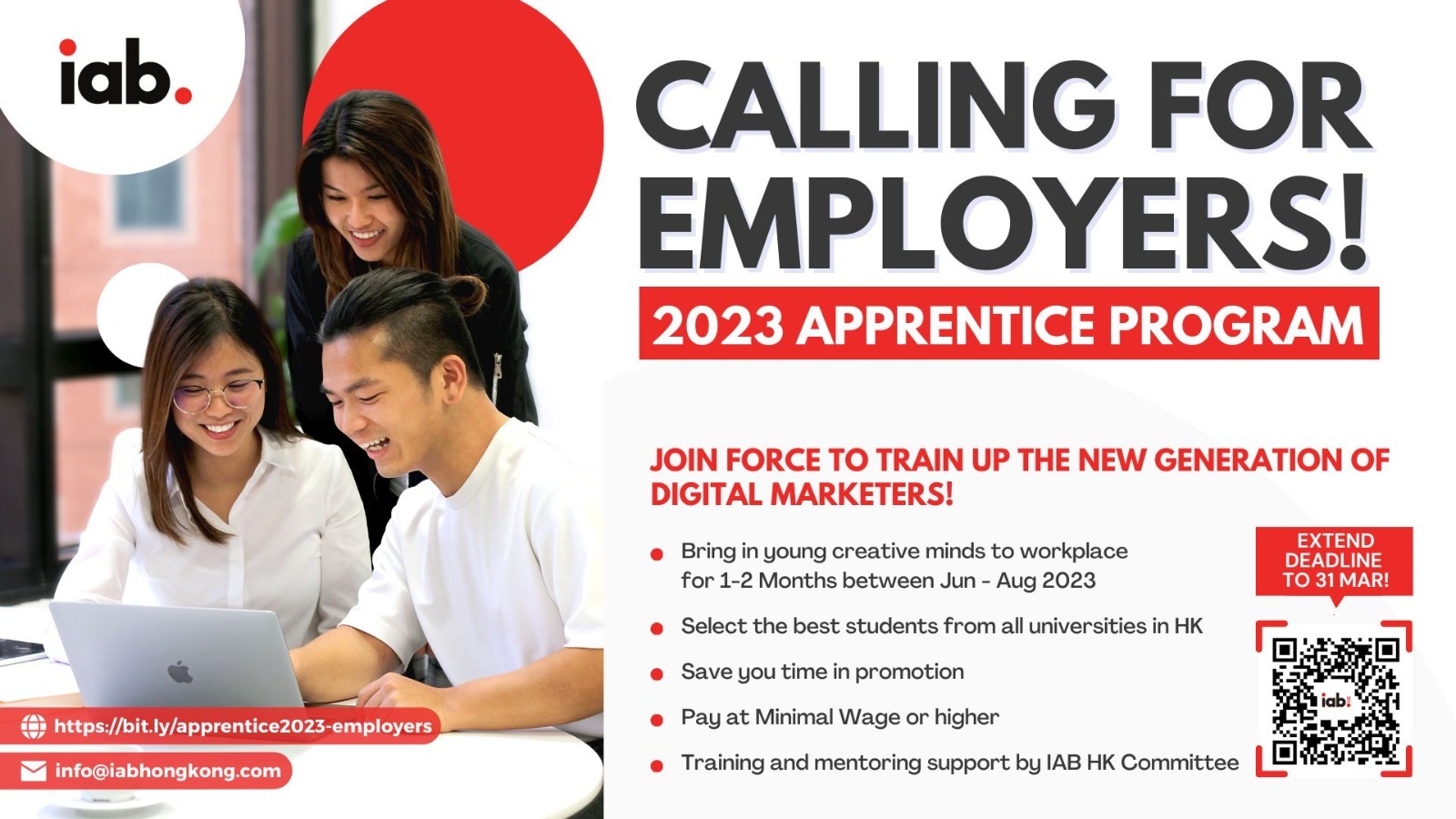 📣Extension of Deadline to 31 March 2023
Calling for Employers to 2023 IAB HK Apprentice Program
Due to the overwhelming responses, the deadline submission for employers will be postponed to Friday, 31 March 2023, allowing time for more employers to participate the "Apprentice Program 2023".
Program details:
✅ 1 to 2 months work experience from the list of employers  
✅ Career Talk & Workshop
✅ Experience Sharing from seasoned digital marketers
✅ Mentorship / Social Gathering
📆Period: Jun to Aug 2023
What's in it for you, as the employer company? 
1️⃣Apprentices will be a valued resource to your company during the summer period. 
2️⃣Build a relationship with future marketers and find potential candidates in your future hiring pipeline.
3️⃣Have IAB HK identify undergraduates who have shown passion and dedication to the digital marketing field. 
4️⃣Have IAB HK provide your interns with training, talks and experience sharing to shape their digital foundation.
Responsibilities of IAB HK
🔸Program promotion to all local universities and recruitment of students
🔸Arranging training, experience sharing, mentorship and social gathering
🔸Overall program coordination
Responsibilities of Employers
🔹Providing 1 or 2-months internship placements
🔹Students' interview and selection. Each student will be given an internship fee of minimum wage HK$37.5 per hour (or higher) and companies will pay directly to the student. 
🔹Student evaluation (Program participants will receive a program completion certificate from IAB HK upon satisfactory performance). 
👉Register by 31 Mar 2023: https://bit.ly/apprentice2023-employers
📩Enquiries: info@iabhongkong.com