Calling for 2023 IAB HK Working Committee Nomination by 30 Nov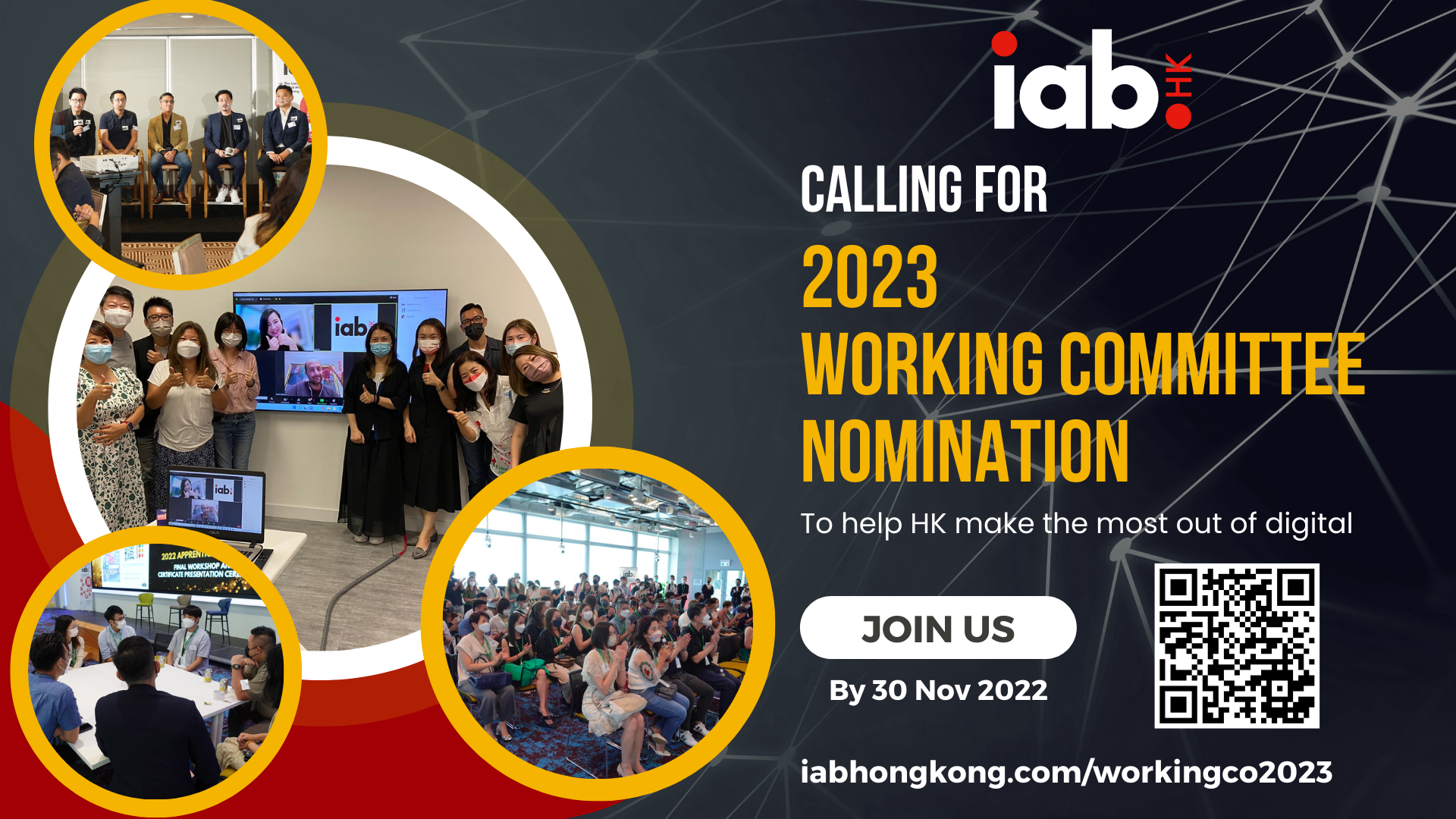 IAB HK is calling for the upcoming 2023 Working Committee Nomination of the term Jan – Dec 2023.
 
If you are a visionary expert for innovation and digital transformation, please join us or nominate a suitable candidate.
1️⃣ AdTech & Programmatic
Evangelizes effectiveness and efficiencies of programmatic, provides key insights and thought-leadership to transform advertising via technology
2️⃣ Commerce
Aggregates the market players to showcase the best practices and latest technology in retailing, enabling members to seize the opportunity for growth from Digital Commerce
3️⃣ Content Marketing
Leads the world-class best practice of content creation and strategy in the digital/mobile world.
4️⃣ Education & Career
Provides professional industry knowledge to the public by bridging up the mass audience with the industry and creating prospective career paths. Meanwhile, we will continuously bring in the latest world-class digital know-how to our members.
5️⃣ Measurement
Helps marketers navigate the changing environment for accurate data collection, un-siloed insights and cross-channel activation.
BENEFITS
✅ Uplift the standard for HK marketers and do something meaningful & interesting for the digital marketing industry.
✅ Extend your reach & exposure beyond your daily work.
✅ Strengthen the relationships with the top digital marketers & ad practitioners.
✏️ Please join us by filling up the form by 30 Nov 2022 (Wed): iabhongkong.com/workingco2023
🔍 Should you have any enquiries, please feel free to contact our secretariat office at info@iabhongkong.com

#iabhk #workingcommittee #committee #adtech #programmatic #commerce #contentmarketing #education #career #measurement #digitalmarketing