2024 IABHK Awards & Working Committee Nomination Opens unil 10 Nov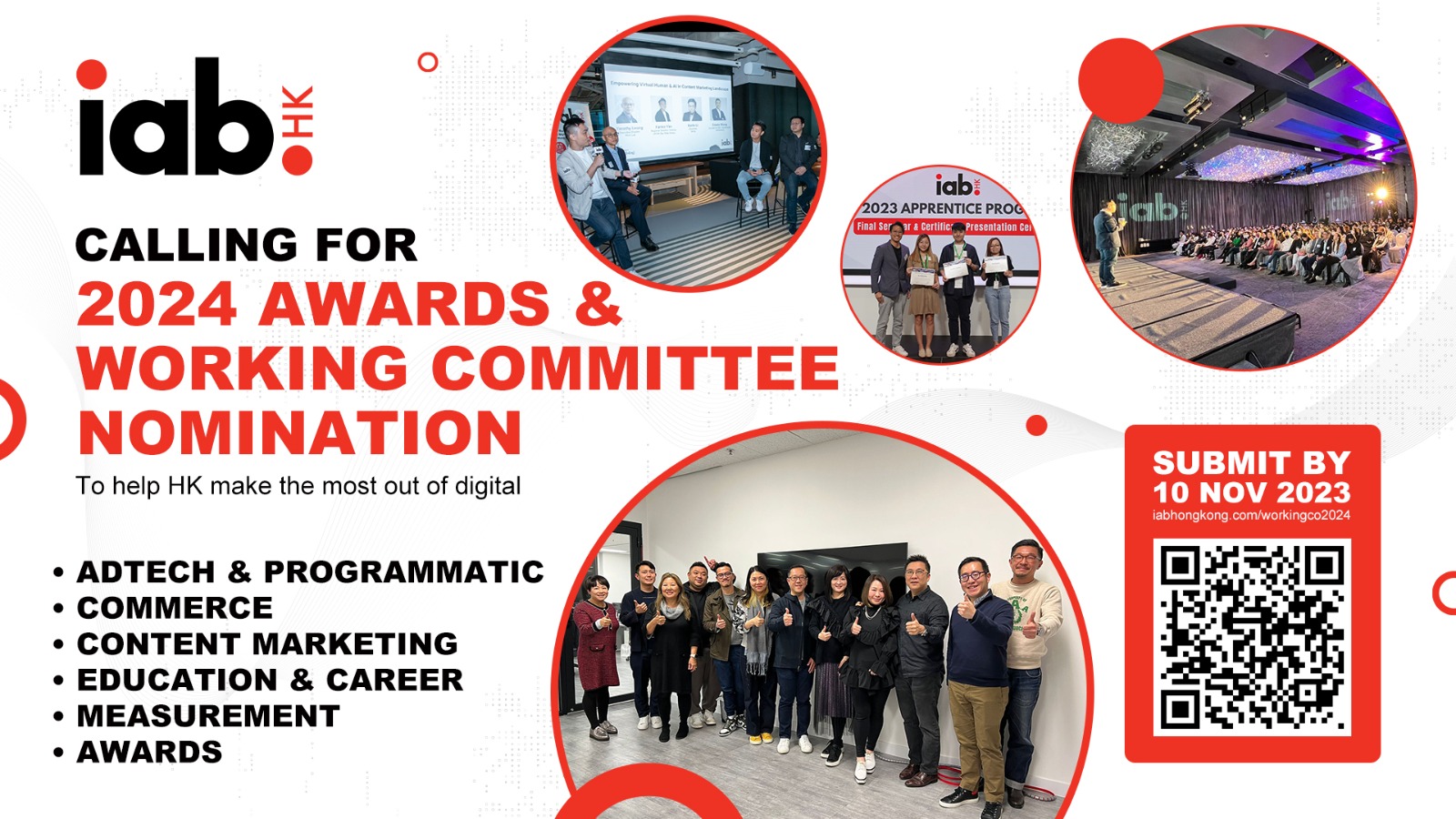 Join the IABHK Committee to shape the Future of Digital Marketing
The IABHK Committee plays a vital role in driving the growth and development of the digital marketing industry in Hong Kong. As a committee member, you will have the opportunity to shape the future of our industry, collaborate with like-minded professionals, and contribute to the success of IABHK initiatives. 
By joining the committee, you can:
1. Influence the Industry: Contribute your expertise and insights to shape industry standards, guidelines, and best practices in digital marketing.
2. Expand Your Network: Connect and collaborate with industry leaders, marketers, and innovators within the IABHK community, building valuable relationships for professional growth.
3. Drive Meaningful Change: Play an active role in advancing the digital marketing landscape in Hong Kong by participating in strategic discussions, brainstorming sessions, and decision-making processes.
4. Enhance Your Professional Profile: Gain recognition as a thought leader and industry influencer, while strengthening your skills and knowledge through committee engagements and events.
We invite you to nominate yourself for a working committee position and be part of this influential group for 2024. To nominate yourself, kindly fill out the Nomination Form by 10 Nov 2023 (Fri) 18:00, to join the committee selection of Adtech & Programmatic, Commerce, Content Marketing, Education & Career, Measurement and the newly added Award Committee.  If you are a visionary expert in innovation and digital transformation, we invite you to join our esteemed community.
| | |
| --- | --- |
| Working Committees | Objectives |
| AdTech & Programmatic | Evangelizes effectiveness and efficiencies of programmatic, provides key insights and thought-leadership to transform advertising via technology. |
| Commerce | Aggregates the market players to showcase the best practices and latest technology in retailing, enabling members to seize the opportunity for growth from Digital Commerce. |
| Content Marketing  | Leads the world-class best practice of content creation and strategy in the digital/mobile world. |
| Education & Career  | Provides professional industry knowledge to the public by bridging up the mass audience with the industry and creating prospective career paths. Meanwhile, we will continuously bring in the latest world-class digital know-how to our members. |
| Measurement | Helps marketers navigate the changing environment for accurate data collection, un-siloed insights and cross-channel activation. |
| Awards** (New) | Planning for the IAB HK Digital Awards 2024 which includes designing the award categories, conducting a comprehensive review and planning of the judging process, organizing amplification efforts (e.g. trade media, PR and implementing paid media strategies), and coordinating the award ceremony. |
DURATION
The first 5 Working Committee service term is from January – December 2024. However, the working term for the Awards Committee is different and will start from April 2024 to March 2025, subject to the award project timeline.
RESPONSIBILITIES OF WORKING COMMITTEE
Play a key role in planning and executing IABHK events, including conferences, seminars, and workshops. For details, subject to the Committee's discussion and the overall year plan of IABHK.
Contribute to IABHK articles, interviews, or industry publications.
Represent IABHK in networking events, conferences, and industry gatherings.
REQUIREMENT
The Candidate should be:
A current employee of a valid corporate member of IAB HK in good standing as of the nomination period
Passionate and specialise in the subject matter of the working committee
Prepared for 'Roll up the sleeves' commitment in activities organisation
A team player who shares the same mission with IAB HK, "To help Hong Kong's advertising and marketing professionals get the most out of digital."
SELECTION CRITERIA
Industry experience and expertise in the relevant area
Connection and influential power
Genuine Passion for the development of the industry
NOMINATION PROCESS
Kindly fill out the Nomination Form by 10 Nov 2023 (Fri) 18:00,
The nomination list will be reviewed by the Current Working and Executive Committee and confirmed in December.
Successful candidates will be announced during the IABHK Annual General Meeting in Jan/Feb 2024.
REMARKS
The working committees are voluntary basis with no remuneration involved. 
Each corporate member is entitled to nominate ONE representative across the five working committees. An exception is made for Founding Members, who may nominate two representatives. Please note, nominations to the Awards Committee are not included in this quota.
Nominees may indicate up to two working committees of their preference, ranked in order. Additionally, they may express their wish to be nominated for the Awards Committee.
Nominees may concurrently serve on one of the five working committees and the Awards Committee. This is subject to the nominee's preferences, areas of expertise, and time commitment.
Candidates shall be current employees of a valid corporate member of IAB HK in good standing. 
If there is a job change and your new employer is also an IAB HK member, we welcome you to remain on the working committee.  If your employer does not renew membership, or if your new employer is not a member, the committee position may require to be surrendered. 
For more information on the duties and responsibilities of the Working Committee, please contact the Secretariat Office at info@iabhongkong.com.