Member's Event: Post Pandemic APAC Marketing & Media Strategies Fireside chat (Ekimetrics)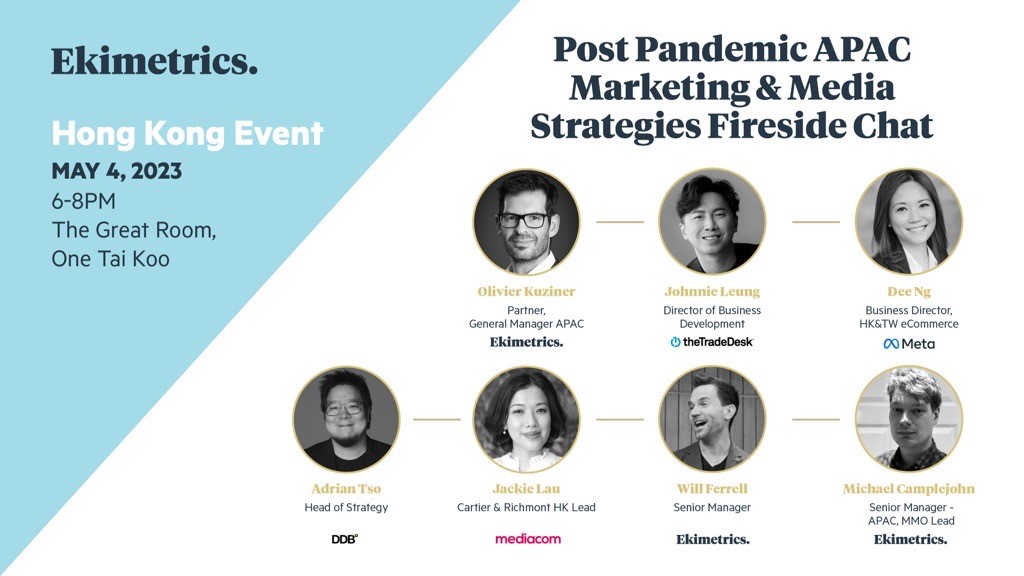 Date & Time: 4 May 2023 (Thursday),  6:00PM - 8:00PM HKT
Venue: The Great Room, 23/F One Taikoo Place, 979 King's Road, Quarry Bay, Hong Kong
Event description:
Understand the impact of media in a post covid world
Marketing leaders have long focused on improving the efficiency and measurement of media investment. Over the past 3 years, COVID-19 has accelerated a shift in marketing spend from offline to online channels to keep up with consumers.
As the pandemic recedes, marketers face new questions about how to plan media and marketing in a post-COVID era, and what to expect in terms of return on investment.
Fortunately, Ekimetrics has conducted a comprehensive study of retail media trends in APAC, providing valuable insights into marketing spend and ROI in a post-COVID world.
Marketing efficiency and measurement has always been been the top of mind of all marketing leaders, with covid's budget pressure, brands' spending on marketing has shifted from offline to online. Ekimetrics is rediscovering & benchmarking APAC's retail trends and sharing the holistic marketing spend trends pre and post-COVID.
Join Ekimetrics and our esteemed partners, including Meta, TheTradeDesk, DDB, Mediacom and more speakers for an insightful fireside chat on how leading global brands are investing in and leveraging data for their marketing efforts. The session will provide valuable insights into the learnings and priorities of these organizations, as well as benchmarks on spend and ROI for the Asia Pacific region.
Data, drinks & finger food will be served!
See you there!