The p in pDOOH
The p in pDOOH
The Current Status of Programmatic Digital Out of Home in Hong Kong
The p in pDOOH 
The p in pDOOH stands for programmatic, which is the automation of ads transaction and fulfilment on Digital Out of Home (DOOH) billboards and signages.  And it is the subject of several recent studies, and a source of optimism for the interactive advertising community possibly in the decade to come.
In one of these recent studies, Growing Programmatic DOOH: Opportunities and Challenges, the Interactive Advertising Bureau (IAB), in conjunction with PwC, interviewed senior industry executives across media companies, ad tech companies and agencies.  The study reported that all expressed their enthusiasm about the potential of programmatic digital out of home (pDOOH) campaigns to drive innovation and growth, by delivering real value for advertisers.
Similarly, in August this year, eMarketer reported that programmatic, as a portion of DOOH ad sales that is transacted or fulfilled programmatically, reached 6.7% in 2020.  And this programmatic portion is projected to reach 15% in the next 2 years. Click to view eMarketer's US Programmatic Digital Out-of-Home Ad Spending Tracking and Forecast.

And right here in Hong Kong, according to a recent research conducted by Verizon Media in July, while there are currently just 2% of respondents buying pDOOH, over 86% of respondents expressed interest in buying emerging formats, including CTV, Audio, and DOOH via programmatic channels. See diagram below.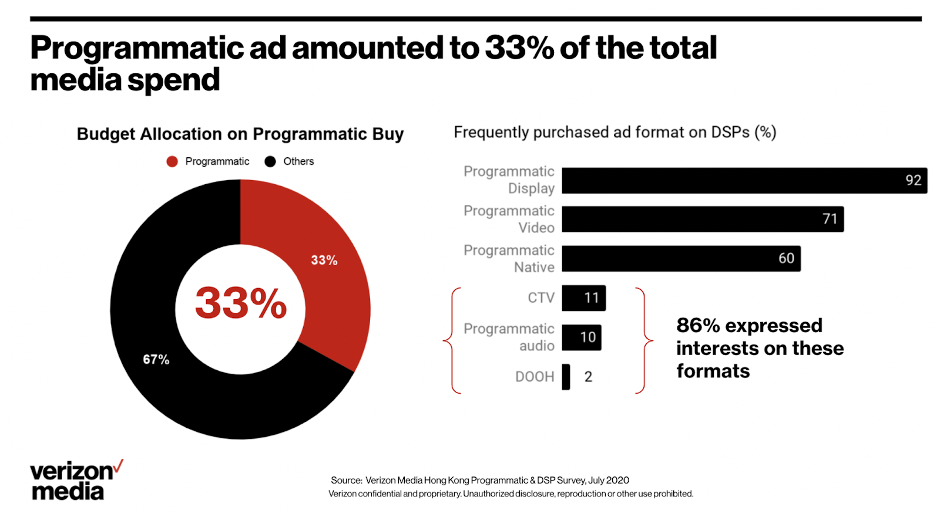 The Paradigm Shift in the Coming Decade?
Considering the tracking and forecasting of programmatic digital out-of-home (pDOOH) ad spending by eMarketer, Verizon Media and similar companies only started in recent years, such growth has indeed been phenomenal.

In fact, if we look closely into the layering effect of digital advertising evolutions in the past decades, we are seeing a trend, with some industry defining occurrences at the end of a decade that would lead to the next decade's formalizing a paradigm shift.  We have seen this for the shift towards digital advertising in the 2000s, programmatic advertising in the 2010s, and now in the 2020s, can this be the decade for pDOOH?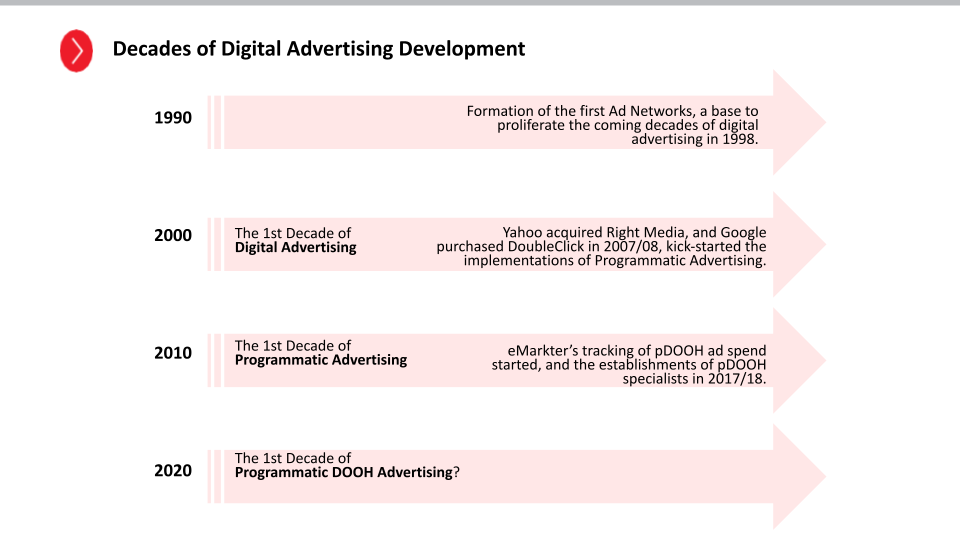 pDOOH in Hong Kong
For pDOOH to pick up such kind of a momentum, there must be reasons behind. And in this paper, the Programmatic Committee of IAB (Hong Kong) gathers insights from experts across the field to systematically lay out such reasons, as well as things to look out for when venturing into this new mode of DOOH ad placement.
Data-Triggered Creative Defined
Connie Tsui, General Manager for Business Development to Asiaray's Central Innovation and Technology Unit, explained that Asiaray started its Programmatic Division in the last couple of years, as they had too recognized such a trend.  This also coincided with Alibaba's investment through Ant Financial into Asiaray in the form of both shares and big data knowhow. 
According to Connie, the ability to link between the digital world, and the analogue one, is a key USP of DOOH. "As OOH media exists all around us in our analogue world.  And programmatic now connects the two with a new level of flexibility and precision fuelled by data-triggered content," said Connie.
Steve Quock, Senior Digital Programmatic Manager in Connie's team, who himself is a programmer, elaborated on how programmatic is introducing flexibility to OOH media like we have never seen before. 
"Advertising content can be placed or pulled, or adjusted on the fly according to variables, such as time of day, or weather, or performance of the stock market," explained Steve.
Ben Allman, Sales Director in APAC for Broadsign, also agreed. Broadsign is a leading global provider of cloud-based digital signage and digital out-of-home software and services.  "One of the big benefits of DOOH is the contextual relevance it can add to," agreed Ben.  "By ensuring the right message is playing to the right audience at the right time, media buyers can create more effective and meaningful advertising experiences."
Another pDOOH specialist, VIOOH (it sounds like VIEW, and it is a lot shorter than saying "Viewed Impressions for OOH") which was launched in 2018 by JCDecaux, the largest outdoor advertising company worldwide, brings on another level of data triggered content to the mix. 
Helen Miall, Chief Marketing Officer of VIOOH explained that OOH was planned largely as a stand-alone in the past.  But now, by planning and buying through DSPs in a programmatic fashion, marketers can look at all the media touchpoints in totality, and optimise towards specific goals, breaking away from the previously inhibiting media silos. 
Therefore, in addition to these most common types of data-triggered creative, there is one other KEY type, which is campaign performance data from other media channels, made available by the omni-channel nature of DSPs.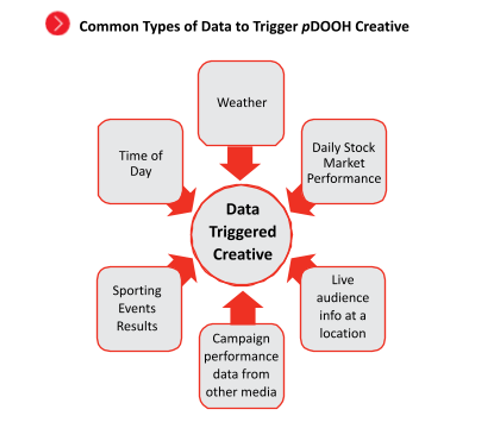 The pDOOH Ecosystem
While the 3 players quoted above are all frontrunners in the pDOOH space, they each represent a specific role in the programmatic relationship chain.
Asiaray is a media owner, whereas VIOOH is a Supply Side Platform (SSP).  SSP provides the technology that enables media owners to manage, sell and optimize their available inventory.
Broadsign is a technology specialist that functions both as a Demand Side Platform (DSP), a technology layer that helps advertisers plan and buy their campaigns programmatically, as well as a SSP.
With companies playing these different roles, their complimentary perspectives come together and paint a more well-rounded picture for our understanding of pDOOH in Hong Kong.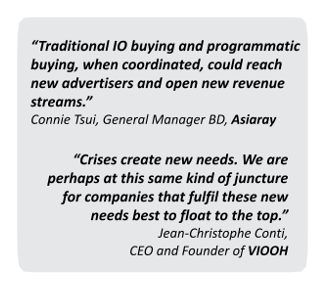 Digitalization of the World's Oldest Medium
When asked why pDOOH has taken longer to materialize, Jean-Christophe Conti, CEO and Founder of VIOOH suggested that it had to do with the longer process of converting analogue OOH screens, one of the oldest medium, into digital ones. 
He reckoned that since OOH screens have now reached a critical mass, which helps push the development of pDOOH over its tipping point, pDOOH's development will take flight in the decade to come.
From Remnant to Premium
Another possible hurdle for pDOOH development is an out-dated view that programmatic is for selling unsold inventory, and it has the potential of driving down inventory values for media owners. 
On this subject, Ben Allman, from Broadsign offered a fresh point of view. "With greater targeting, pDOOH can even charge higher CPMx than traditional buying, and generate a premium for the inventory that is indeed in high demand."
Connie Tsui, from Asiaray also shed light on how traditional IO buying and programmatic buying, when coordinated, could reach new advertisers and open new revenue streams. "OOH wins on size and impact hands down, and therefore is perfect for brand building," explained Connie. "And this has traditionally been taken care of by IO buy." 
For campaigns that are more tactical in nature or need to communicate benefits that vary, OOH had not been an obvious choice of media. Until now, that is.  With data-triggered creative mentioned earlier, tactical advertisers can now utilize DOOH, via programmatic buy, to plan and execute campaigns that communicate variable messages based variable context. In Connie's view, this type of advertisers and campaigns are best handled through programmatic.
Measurement, Measurement, Measurement
pDOOH, when compared to traditional OOH, provides more ways to measure campaign effectiveness, such as audience panels, vehicles and facial recognition technology as well as mobile location data.
Mobile location data from location specialists such as Blis, Factual and S4M, among others, can add a third-party element to the measurement of exposure, as well as a new dimension on footfall.
Jimmy Poon, Head of Sales and Trading, Blis explained that footfall is the measurement of devices which had been exposed to the creative, and those subsequently appeared at specified locations, such as the advertisers' stores and showrooms. 
"The fundamental of tracking device IDs movement introduces new possibilities. Not only that the measurement of effectiveness can now include a form of conversions, it also allows exposed devices at these OOH locations to be retargeted."
So, the good news is that methods for measurement proliferate. And on the flip side, at least for the time being, standard to these measurements has yet to be put in place. 
Ben Allman from Broadsign explained, "One of the challenges for DOOH across the entire APAC region is that there's no standard currency when it comes to measuring audiences. While industry standards such as Geopath and Route exist in the US and UK respectively, audience measurement in our part of the world is less standardized. Buyers need to be aware of this and evaluate each audience measurement platform on a case-by-case basis, based on how reliable and robust the data is."
Steve Quock, from Asiaray, agreed. Since by nature, OOH is one to many, an impression multiplier is usually involved. And Steve pointed out that there is currently not a standard for the derivation of impression multiplier, giving one example of such standardization need.
From Lemon to Lemonade
Here in Hong Kong, protests and COVID 19 present unprecedented challenges to the advertising industry as a whole; and this double whammy hit OOH particularly hard as people stay in more. 
With this said, Ben Allman from Broadsign elaborated, "The future growth prospects for pDOOH in APAC and Hong Kong specifically are still very positive."
Ben expected much of this growth to be driven by pDOOH's extremely complementary nature in that it can have an ROI-boosting effect on other media when included as part of the media mix.
According to studies from Nielsen, Analytic Partners and OnDevice Research, DOOH in an omni-channel campaign drives 4x more online activity per ad dollar spent than TV, radio or print alone; makes it 46% more likely for consumers to engage with a brand on mobile; and increases online activations through search and social media at 4x the expected rate, given relative ad spend in those media. 
On this same subject, Jean-Christophe Conti from VIOOH supplied an encouraging perspective backed up by historical references, "COVID is a difficult time, but if we look back on previous crises, such as the financial crisis in 2008/2009, certain advertising companies came out even stronger, and holding onto more commanding positions than ever before.  It is because crises create new needs, such as the need to adjust campaigns on the fly.  And with the new flexibility and features added by pDOOH, we are perhaps at this same kind of juncture for companies that fulfil these new needs best to float to the top." 
pDOOH Ad Examples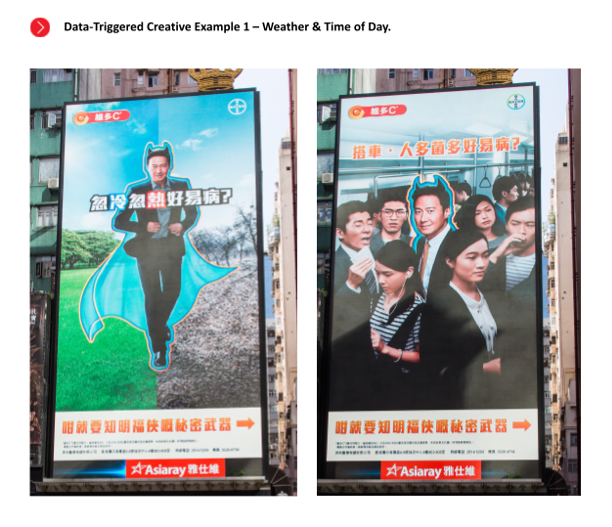 This pDOOH campaign from Bayer in Hong Kong showed how the change in outdoor temperature to below 25°C would trigger a creative version that stated "temperature fluctuation as a concern for getting a cold", whereas another version showed during rush hours which stated "crowds in rush hour traffic as a concern for getting people infected". (Source: Asiaray)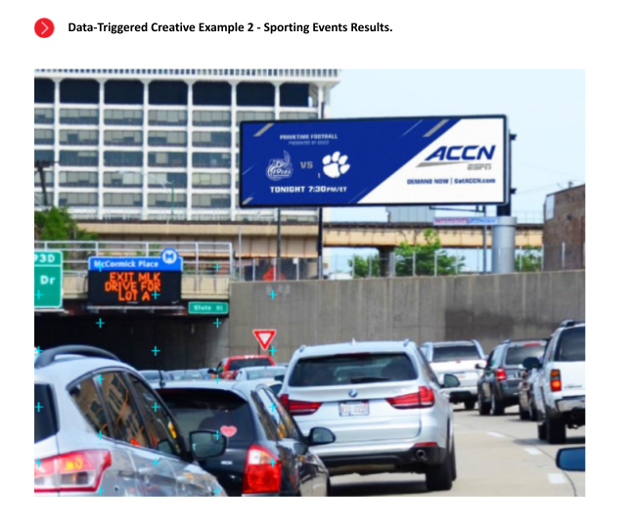 Using pDOOH, ESPN was able to trade and display at specific times, and display live scores, based on the college games in Chicago, from Thursday to Sunday. They also personalized their creatives for each match to drive better engagement. (Source: VIOOH)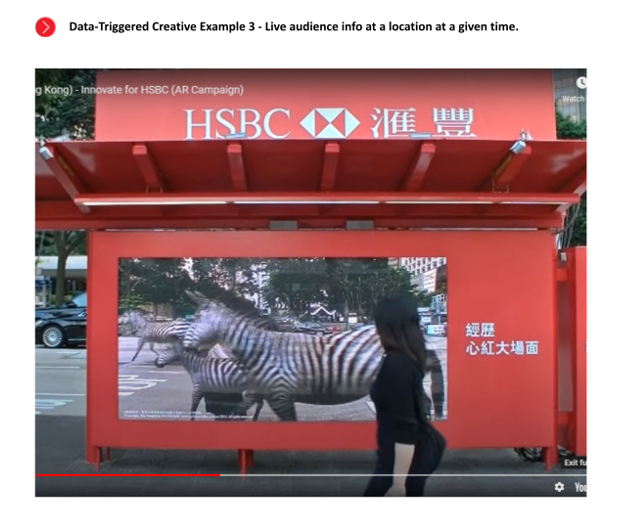 This pDOOH campaign by HSBC Hong Kong did a great job of using audiences passing by to trigger cameras and turned an everyday street into an exciting landscape that encourages viewers to travel. (Source: Broadsign)
WHY WE PREPARED THIS PAPER
The goal of this paper on Programmatic Digital Out of Home (pDOOH) ads is to provide a comprehensive views on its current status of development in Hong Kong, as well as the possibilities being brought forward by this newest technology to this oldest media channel of advertising.
WHY IS THIS PAPER IMPORTANT?
Examining different permeations of pDOOH ads is important so marketers and agencies know their creative options for data-triggered advertising, particularly as more ads are served programmatically. 
APPENDIX
About Asiaray
Asiaray is a leading out-of-home media company founded in Hong Kong with a strategic focus on airport, metro line and high-speed rail advertising. Asiaray has established an extensive network in over 39 major cities throughout the Greater China Region, riding on 25 years of expertise and reputation.
About Broadsign
Broadsign is powering 187,000 digital screens in airports, shopping malls, health clinics and transit systems. Broadsign's SSP, Reach, has been built specifically for digital out-of-home and is integrated with 35 demand-side platforms, while the company's DSP, Campsite, is currently available in North America and will be making its way to APAC in Australia & New Zealand, later this year and in early 2021.
About VIOOH
VIOOH is an open, independent, and global marketplace for out of home, combining data and technology to connect brands to the right audience with full transparency. VIOOH is backed by advertising powerhouse JCDecaux, and able to feature their exclusive inventories globally started from the UK and US; and followed by other EMEA and now APAC markets.
About the IAB (Hong Kong)
The Interactive Advertising Bureau (Hong Kong) empowers the media and marketing industries in Hong Kong, to  thrive in the digital economy. It is comprised of more than 100 leading media and technology  companies that are responsible for selling, delivering, and optimizing digital campaigns.  Working with its member companies, the IAB (Hong Kong) evaluates and recommends standards and  practices and fields critical research on interactive advertising. 
The IAB (Hong Kong) Programmatic Advertising Committee
The Programmatic Advertising Committee is focused on evaluating the value and potential of Programmatic  Advertising. This includes evaluation of the programmatic advertising ecosystem and terminology,  disclosure principles, ad performance evaluation, opportunities/obstacles by platform, scalable/custom solutions, consumer perceptions, messaging and more. 
Programmatic Advertising Committee Members who authored this paper
Jimmy Poon , Head of Sales and Trading, Blis
Jenny Tsang, Programmatic Advertising Lead, Verizon Media
Programmatic Advertising Committee Members
Alex Lo (Committee Chair), Director of Accounts, Hong Kong & Taiwan, The Trade Desk
Jimmy Poon , Head of Sales and Trading, Blis
Dan Lee, Programmatic Director, delvify
Oliver Choi, Associate Director, PBU, GroupM
Jenny Tsang, Programmatic Advertising Lead, Verizon Media
Sze How Chan, Strategic Market Manager, Xandr
Please address any questions or comments about this document to 
Alvina Chan, Secretariat Office, IAB (Hong Kong) - alvina.chan@iabhongkong.com