360 use mobile customer engagements full video members access only
360 Use of Mobile on Customer Engagements (Full Video for Members Access Only)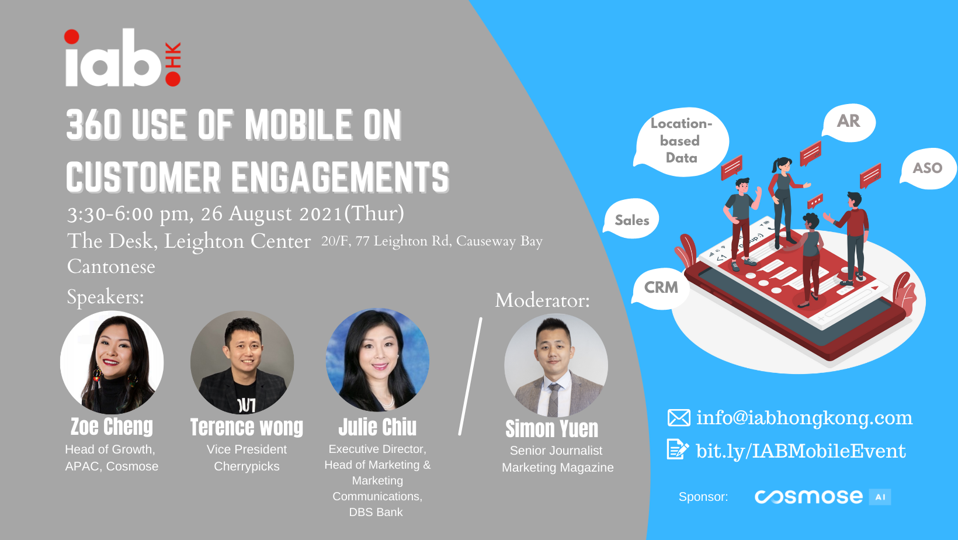 360 Use of Mobile on Customer Engagements presented by IAB Hong Kong Mobile Committee.
Nowadays, mobile is part of our everyday life and no doubt it is the dominant channel to reach customers. On 26/8, we were thrilled to share results of Best Use of Mobile Online Campaign Showcase Season 2, the picks of Mobile Committee and Marketing Magazines. Also thank you speakers for sharing insights of how to engage customers via location data, UX/UI design and innovation thinking, hopefully, can inspire brands to boost customer engagements.
A big round of applause to below guest moderator and speakers:
1. Zoe Cheng, Head of Growth, APAC, Cosmose
2. Terence Wong, Vice President, Cherrypicks
3. Julie Chiu, Executive Director, Head of Marketing & Marketing Communications at DBS Bank
4. Simon Yuen, Senior Journalist, Marketing Magazine (Moderator)
Thanks IAB HK Mobile Committee, led by Margaret Mok, to make the event happen. Grateful to Cosmose, the leader in artificial intelligence empowering oCommerce, for sponsoring the event.
Last but not least, congratulations to the Committees' picks and Editors' picks of the Best Use of Mobile Season 2, Including :
-Pay, Shake, Earn by Livi Bank (Editors' Pick)
-The Next Generation of InsurTech by YAS Microinsurance
-Reimagining West Kowloon Cultural District by NDN Group Limited (HK)
-HKT Enterprise Solution - SME Solutions for POS Consumption Voucher by Hotmob Limited
In case you'd like to refresh your memory, you can access the recordings here on our YouTube channel now!